You have to agree, this year has been different, and challenging, and has changed our lives forever. Now as we come to the end of 2020, we're likely wanting to celebrate the coming of the New Year as thoughts of 2021 fill us with hope and a new sense of energy and renewal.
Unlike most years, we won't be attending large parties with friends, family, or neighbours. There'll be no big crowds watching the ball drop in Time Square. Gathering is simply not on the agenda.
We can still reflect on the past twelve months. We can think about the future ahead, our resolutions, and our reasons to be grateful.
Because we will most likely be at home, why not don a party hat, have a glass of something bubbly and enjoy this last day of the year. You may even want to start planning for your next New Year's Eve Party.
If you are feeling the need for something more … here are a couple of ideas for your "Stay at Home" celebration.
Which one will you do on New Year's Eve?
Make a "Destination" Theme Night
I mean why not! Pick a destination and plan drinks and food for the family. If your favourite holiday was to Mexico, pull out your beachwear and colourful souvenirs and decorate for a festive celebration. Play trivial games and hand out prizes. Dance to traditional music or watch a themed movie.
"Feliz Año Nuevo!"
Channel a "Hygge" Inspired Theme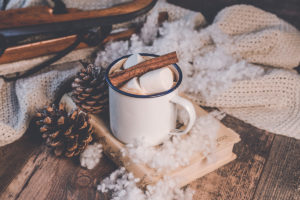 With the stresses of 2020, you may want to do more of a self-care, stress-free evening. The Danish concept of Hygge refers to finding comfort, pleasure, and warmth in simple, soothing things such as a cozy atmosphere or lifestyle.
Make yourself a quiet evening. Mix up a hot chocolate or a hot toddy. Snuggle in front of a  warm fireplace with a fluffy blanket. Write down your resolutions, hopes, thoughts for the year to come. Spend this time to think deeply, meditate, listen to soothing music. And if you have had enough time to yourself, make some zoom chats or face-time calls to loved ones. This is the perfect atmosphere to cultivate gratitude and to reconnect with all that makes you happy and brings you joy.
Get Out and Share the "Spark" of the New Year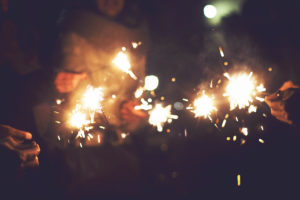 With so many people, especially seniors, left at home alone this year, why not create a little spark in their evening with an "outdoor" visit. Here in North Vancouver, there are plenty of new and old apartment buildings filled with people living alone. Gather your family and some sparklers and walk your neighbourhood. Light up the heart of someone alone while you light up the night with a little spark.
From Everyone at Central Apartments in North Vancouver and MacLean Homes, We Wish You a Wonderful and Happy New Year!